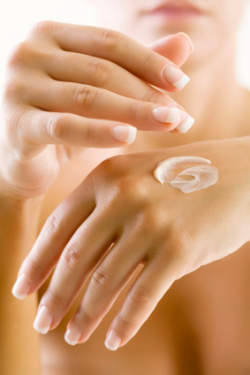 courtesy: sheknows
You can keep your hands beautiful by daily cleansing and moisturizing. You can prevent dryness, if you opt for daily hand moisturizing. this also effects your nails. By daily moisturizing of hands, you also cleanse your cuticle area. This also help in growth of healthy nails. 
Moisturizing of hands help to make your hands smooth and soft in texture. Beautiful hands also act as vital part of personality in women. There are many natural creams and moisturizers to choose for daily hand moisturizers. They are also available according to skin type. But, you can also consider hand moisturizer on natural basis.
Here are natural tips for hand moisturizers:
You can opt for basic home products for this. For natural hand moisturizer, you can consider glycerin. This helps to make your hands soft in texture. Take one part of glycerin and some honey in this. you can directly apply this to your hands.